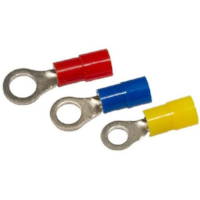 Durable nylon insulation and a tin plated copper ring provides excellent conductivity for heavy-duty wire connecting applications.
UL and CSA rated for 600 Volts.
Terminals made of Nylon material have an operating temperature range: continuous duty from -67°F to 221°F (-55°C to 105°C).
All Nylon ring terminal connectors are color coded to industry standards.
Nylon Insulated Terminals                                                                                     
Click On Image To For More Product Information
New Column
Color
Gauge
Ring Size
Sku
Quantity
Price
Add To Cart
New Column
Color
Gauge
Ring Size
Sku
Quantity
Price
Add To Cart
New Column
Color
Gauge
Ring Size
Sku
Quantity
Price
Add To Cart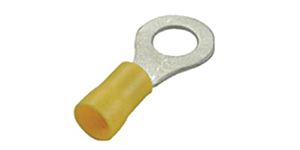 New Column
Color
Gauge
Ring Size
Sku
Quantity
Price
Add To Cart
New Column
Color
Gauge
Ring Size
Sku
Quantity
Price
Add To Cart
New Column
Color
Gauge
Ring Size
Sku
Quantity
Price
Add To Cart
Nylon Female and Male Push-On Terminals .250                                           
New Column
Male/Female
Color
Gauge
Sku
Quantity
Price
Add To Cart
Nylon Insulated Butt Connectors                                                                     
New Column
Color
Gauge
Sku
Quantity
Price
Add To Cart